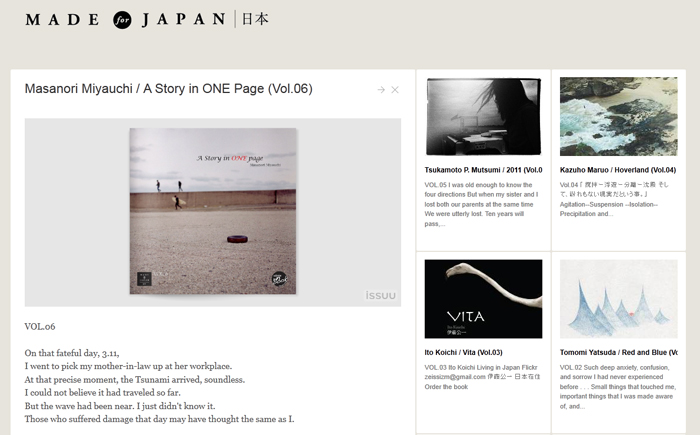 On that fateful day, 3.11,
I went to pick my mother-in-law up at her workplace.
At that precise moment, the Tsunami arrived, soundless.
I could not believe it had traveled so far.
But the wave had been near. I just didn't know it.
Those who suffered damage that day may have thought the same as I.
After that day, I made a renewed resolution to myself that
I will cherish every single one of even the most ordinary of my days.
3.11のあの日。
義母を海の近くの仕事場迎えに行った。
まさにその時、音もなく津波がやって来た。
まさか、ここまで・・・
自分は知らなかっただけで、津波はすぐ近くまで迫っていた。
きっと、被害にあった誰もがそう思ったに違いない。
あの日以来、何でもない日々を大切にしようとあらためて思った。
Masanori Miyauchi (aka PUU)
Resides in Chiba Prefecture.
Second-generation owner of a dry-cleaning shop.
A perpetual boy, with a great fondness for cameras, countryside and Gundam.
宮内正紀   (別名 PUU)
千葉県在住、自営の洗濯屋の二代目
カメラと田舎とガンダムを愛する永遠の少年
PUU'S GALLERY MY HEART PHOTOGRAPHS
Translation: Naoko Miki /OFFICE MIKI info@officemiki.com
Order the book
2011
MADE FOR JAPAN is a project by Citypulse, conducted by Toshihiro Oshima and aimed to help the Japanese people to heal their wounds.
It is composed by 12 Volumes created by 11 artists, 9 of them Japanese and 2 Spanish photographers specially invited to the project. Starting August 11th, exactly 5 months after the earthquake, each week we will launch a new Volume.
All the profits will go to the Japanese Red Cross to be applied in the reconstruction labors.
You can browse the complete Preview of "2011" on....
CITYPULSE : Made for Japan Website
Buy the book and you will automatically donate 10$ to the Red Cross Program for Helping the reconstruction of March 11th Earthquake in Japan.
www.blurb.com/bookstore/detail/2480277